---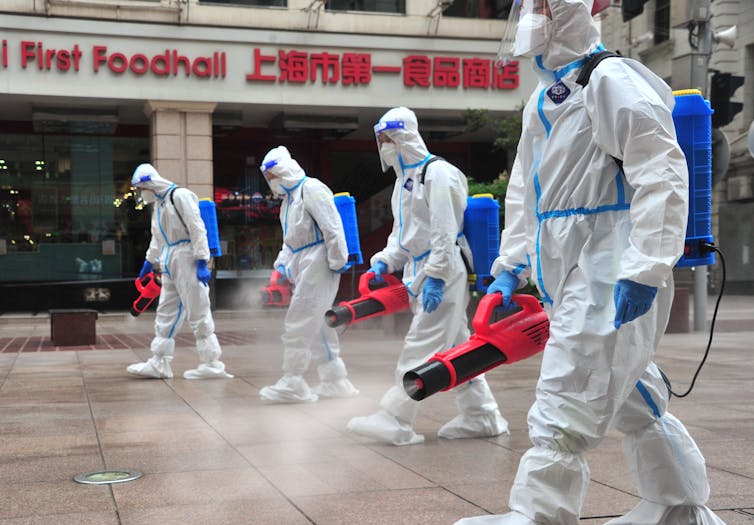 Yang Jianzheng/VCG via Getty Images
Arindam Basu, University of Canterbury
Within less than three years, the World Health Organization (WHO) has declared two public health emergencies of international concern: COVID-19 in February 2020 and monkeypox in July 2022.
At the same time, extreme weather events are being reported continuously across the world and are expected to become more frequent and intense.
These are not separate issues. We will have a better chance of suppressing infectious diseases only if we adopt what the WHO calls a One Health approach and integrate predictive modelling and surveillance used in both infectious disease control and climate change.
Public health experts have relied on disease surveillance systems to track emerging diseases since the 19th century. Their methods have become increasingly sophisticated, including genomic surveillance to track how pathogens evolve.
But as long as these surveillance systems depend on diseases that have already emerged, they remain behind the curve and we risk "sleepwalking" into the next pandemic.
Given the impacts of a changing climate on ecosystems, any surveillance of new disease outbreaks must include humans, animals and planetary changes.
New and re-emerging pathogens
COVID-19 will continue to evolve into new variants despite high vaccination rates in some countries and the availability of antiviral treatments. At the same time, new diseases will continue to emerge.
In the first week of August, more than 25,000 cases of monkeypox were registered worldwide and new reports of deaths continue to emerge. Ghana has declared an outbreak of Marnburg virus disease in July and Mozambique reported its first case of polio in 30 years in May.
Polio has now also been detected in wastewater samples in New York and public health authorities in other wealthy countries are racing to head off the re-emergence of a virus that had been almost eliminated.
While the latter is most likely due to a global drop in vaccinations, health experts are warning that new pathogens, particularly those that jump between animals and humans, will become more frequent as habitats change in a warming world.
Health scientists refer to diseases such as COVID-19 and monkeypox as zoonoses – pathogens known to be transmitted from animals to humans. Close contact between humans and wild animals is increasing as forests are destroyed to make way for agriculture and trade in exotic animals continues.
At the same time, the thawing of permafrost is releasing microbes hidden beneath the ice. Taken together, there is an ever growing risk of new pathogens.

---
254 Locales report 618,775,595 COVID-19 cases of which there are 13,062,937 active cases, therefore 599,155,510 recoveries and 6,557,148 fatalities.
---
GMT 2022-09-26 05:20
Data reported should be in accordance with the applied case definitions and testing strategies in each locale as their governments report daily or from time to time. All data researched and published by The RINJ Foundation and partners in CSPaC.

©The RINJ Foundation 2020-2022-09-26T05:20:18Z Singapore-SK-HUK-77
RINJ is with Civil Society Solidarity Partners against COVID-19.
SARS2 Update 2022-09-26 05:20 GMT
Global Population: 7,909,650,599
254 Regions reported 618,775,595 cases
13,062,937 cases active
6,557,148 people reported killed by COVID-19
1.06% is current Case Fatality Rate (CFR)
599,155,510 survived COVID-19
Beta Technology Global Estimates
43.26% of all humans (3,421,829,040) have been infected
0.57% Global estimated inferred average Infection Fatality Rate (IFR)
(influenza is .1% or 6 per 100k (2019))
19,664,558 Total deaths (CSPaC.net estimated actual) including errors, unexpected deaths with pneumonia indications with no history, and unreported likely-cause excess deaths such as people who never went to a hospital but had COVID-19 indications but never tested.
See The Lancet estimate of excess mortality from COVID-19 (Download PDF) in 191 countries/territories and 252 subnational units of select countries, from 1 January 2 0 2 0, to 31 December 2 0 2 1.
USA (97,258,206)
160.12% of the USA may have been infected including reported + estimated unreported mild and estimated asymptomatic (530,909,259.23) persons, some of whom may not have been ill in their first course of the disease, but could have spread the disease.
1.12% is USA current Case Fatality Rate (CFR)&
0.25% is estimated inferred average Infection Fatality Rate (IFR)
1,327,273 estimated total COVID-19 deaths including unreported likely-cause excess deaths. According to projections of IHME, IHME calculation of excess deaths is slightly higher than what CSPaC is showing.
See The Lancet estimate of excess mortality from COVID-19 (Download PDF) in 191 countries/territories and 252 subnational units of select countries, from 1 January 2 0 2 0, to 31 December 2 0 2 1.
The American Epicenter has 13.86 % of global 'active' cases (1,810,028 USA / 13,062,937 Global), people infected with COVID-19 now.
Below: CSPAC estimated 2022-09-26 05:16 GMT COVID-19 data for India.
EPICENTER-2: India (44,558,425)
| | | | | |
| --- | --- | --- | --- | --- |
| Reported | *Cases | *Deaths | *CFR | *Recovered |
| India | 44,558,425 | 528,449 | 1.2% | 43,984,695 |
*Reported by India but understated.
Note: India's reported death sum and cured data are widely seen among epidemiologists and biostatisticians as unreliable. For example, 3,064,951 is CSPAC estimated sum of deaths while India reports 528,449, creating the largest discepency in the world. India might only report hospital tested cases. Sources among hundreds of nurses and other medical practitioners provide a picture that in summary concludes most cases never present in a hospital especially in northern provinces where health care is less available and utilization is low anyway because of poverty, hence most people die at home in India. This theory could explain discrepancies between reported data and algorithmic estimates.
| | | | |
| --- | --- | --- | --- |
| Locale | Cases | Deaths | Active |
| India reported: | 44,558,425 | 528,449 | 45,281 |
| India estimates: | 246,408,090 | 3,064,951 | 107,775 |
Data collected and reported by: Civil Society Solidarity Partners against COVID-19
The link between human, animal and environmental health
Global climate models are increasingly sophisticated at projecting how climate change will affect Earth systems and ecosystems. There are efforts to "connect the dots" by integrating human and animal health and the "sickness of the planet", as described by the late Norwegian physician Per Fugelli in his 1994 essay, In Search of a Global Social Medicine.
Incremental steps in integrating disease and planetary surveillance are under way. In 2008, the WHO, the Food and Agriculture Organization (FAO), the World Organisation for Animal Health (WOAH) and other organisations jointly drafted a framework for how best to diminish the risk and minimise the global impact of pandemics.
In 2014, a manifesto published in the Lancet called for an urgent transformation in our values, based on the recognition of our "interdependence and interconnectedness of the risks we face".
In 2021, the One Health high level expert panel adopted a definition of an integrated, unifying approach that aims to balance and optimise the health of people, animals and ecosystems.
A One Health approach to disease surveillance is now used by the African Centers for Disease Control and the global network to address antimicrobial resistance. In 2019, the UN's interagency coordinating group on antimicrobial resistance recognised that microbes that infect animals and humans share the same ecosystems and their prevention therefore requires a coordinated approach.
These are relatively recent initiatives in our effort to understand and track past, present and future outbreaks. There may be a long way to go in integrating disciplines, but the answer to predicting and preempting future outbreaks and pandemics lies in a One Health approach.

Arindam Basu, Associate Professor, Epidemiology and Environmental Health, University of Canterbury
This article is republished from The Conversation under a Creative Commons license. Read the original article.